PaulaG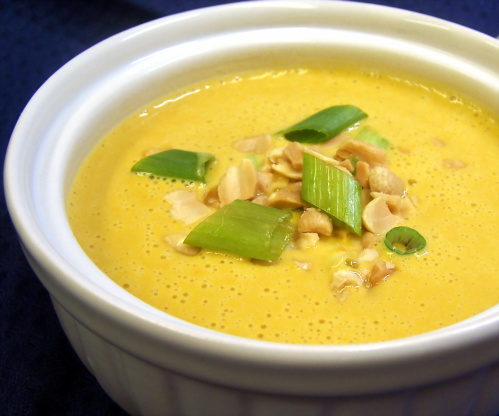 This spicy hearty soup is delicious! Quick enough to whip up for lunch. Good starter too.

I have been making this soup for about five years now. Everyone I have introduced it to love it. I have made slight changes to it over the years to accommodate meat eaters..
0. Omit carrots. You don't really need them in this.
1. Lemon zest can substitute the lemongrass.
2. I use red curry paste instead of chopped chilies, amazing I must say.
3. Puree with a stick blender.
4. Diced cooked chicken provides a more substantial meal, for a meat eater.
5. Cilantro garnish. Need I say more?

Love it.
Cook onion, celery, carrot and red pepper in butter until softened, about 5 minutes. Add the lemon grass, red chili, stir and cook for 1 minute. Stir in the flour, and let cook for 1 minute, stirring all the time.
Add chicken broth, coconut milk and soy sauce, and stir to combine well. Add the peanut butter. Keep stirring until well combined (the peanut butter will go kind of stringy, but it will melt in after a bit). Heat until hot and bubbly.
Serve with chopped fresh roasted peanuts and green onions as a garnish.