Senegalese Chicken and Peanut Soup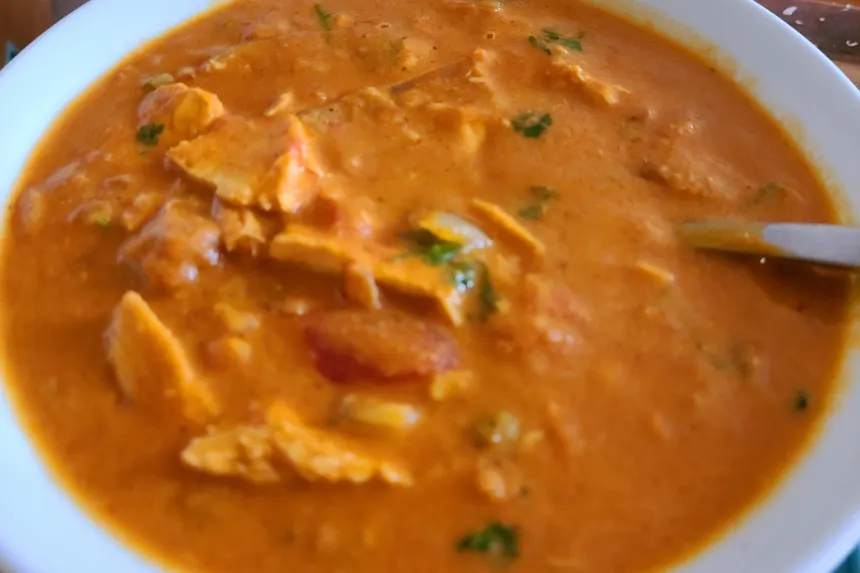 photo by D B.9227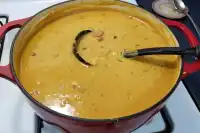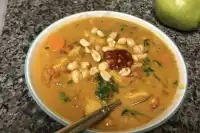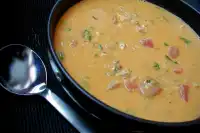 Ready In:

1hr

Ingredients:

14
directions
Saute onion, garlic and cayenne in oil until onion is translucent.
Stir in curry powder and curry paste; saute 1 minute.
Add chicken stock and tomatoes in juice; bring to a boil, then simmer for 15 minutes.
Add cooked chicken and sambal; simmer for 10 minutes.
Whisk in peanut butter a little at a time until incorporated; add coconut milk and stir to incorporate.
Turn soup to low and add cilantro and lemon juice to brighten the taste; check seasoning.
Questions & Replies

Got a question?
Share it with the community!
Reviews
This truly is a five star soup. I'm not exaggerating when I say this - this is the Best Soup I've Ever Had. And I'm utterly flabbergasted that something I made has earned this title. I made my second batch yesterday and a good friend - a friend who knows me and thinks well of me - looked at me cockeyed when I tried to assure him that, yes, I made it and hadn't picked it up from a restaurant. With every subsequent bite he took - I'm pretty sure I heard him mumbling: Liar.

 

As everyone else has reported--FANTASTIC!! My 12 lady friends ALL thought it was excellent (even the picky one:) as I served it for a luncheon/card get together. Chickens were on sale so I bought two, one for the freezer, cooked the other Sunday in the Crockpot and made the soup yesterday based on others' reviews saying it was better the day following. In the process of trying to find all the ingredients (particularly the yellow curry paste and the sambal oelek chili paste), I luckily found a new Asian SUPERmarket in Tucson which not only had exactly what I wanted but SO much more. I made a batch and a half which was more than adequate for 12 (even had some left over). I cut down on the cayenne a bit in consideration for some of the ladies and as they said, "It's spicy but not really hot--just has a nice bite." I encourage all you are debating to take the plunge. You won't be sorry you did. It's an exciting change from all the usual soups we ge caught up in making routinely. Thank you so much for posting; this will be made often!!

 

I was in the mood for soup but wanted something different..this hit the spot!! I was confused with the flavors at first but as I kept eating I really came to decide that I loved it!!I made a few alterations based on what I had on hand but I think I stayed close to what this recipe is at heart.To add a bit more substance I used two cups of cooked root veggie all mashed up based on other recipes for this same soup.I used a mix of pumpkin, carrot,banana squash,& sweet potato-mostly as I had a little of this & a bit of that in the fridge.I also used a 16oz can of diced tomatoes so I cut the broth down by 2 cups..again other recipes called for tomatoes & I thought that all sounded good.I went with one cup creamy pb as thats what I had.I just used all curry powder as I couldn't find yellow curry paste & we did have to add more S&P to suit our tastes.Finished it with some cilantro & crunchy coconut flakes...it was really amazing!!Try this..Im sure it will be a welcomed change of pace!!

 
Tweaks
We mostly do this, but tweak it like so: • We reverse the curry powder and curry paste ratio. We use a few tablespoons of curry powder and a whole packet or small baby food type jar of RED curry paste instead of yellow (it needs it - believe me) • We omit the sambal oelek since we do a whole packet of red curry paste (I like my soup a little on the milder side, like a 2) but by all means, add some in if you prefer it to be spicier. •We also dice up a handful of carrots and throw in there. Some people use a sweet potato - which would be more true to other recipes out there. Carrots is just what we had on hand the first time we made this, so we stuck with it. • Oh, and I adjust the recipe to serve 8 (to freeze some) and recommend adding 2 chickens instead of just 1.

 

I was searching for a recipe for Senegalese Chicken and Peanut Soup and after coming across several different versions I finally settled this one. WOW! It's exactly what I was looking for. Absolutely delicious. I will definitely make it again. It was a huge hit with two of my husband's friends who popped by just after I made it and wanted to know what smelled so good.<br/><br/>Had to make a couple of substitutions: My grocery store only had Green Curry Paste or Red Curry Paste in the Thai food section so I chose the green. And I could not find any red chili paste so I used 1tsp of hot sauce instead. Not sure how much of a difference these changes made but they worked out just fine.<br/><br/>I kept trying to figure out if there was anything I would change when I make it again and I couldn't come up with anything to really change the taste. It's just right the way it is. I might try adding some rice in when I add the tomatoes and stock to make it a bit more like a stew than a soup just to see how that could change it up. But overall if you are a fan of Thai or Indian food this will be a hit.