rpgaymer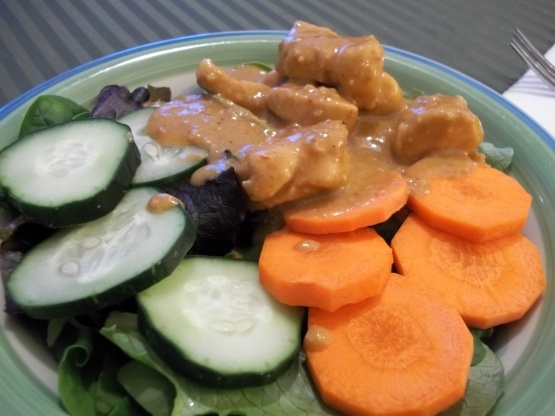 From Thai Cooking Made Easy by Wei-Chuan Cooking School. I just love this simple recipe and hope that you do, too. The Peanut Sauce may also be used as a dipping sauce for other purposes; here, it goes great with chicken salad.

Top Review by Tisme
This made for a lovely dinner on a very warm Australian night.
I made nearly almost to the origninal recipe, my problem being I could not fine tamarind so I used lemon juice instead, which worked well although it did tend to seperate and so I had to blitz it a bit to get it back to a normal sauce (the blitzing worked well)
But in the end it worked well, and was enjoyed by all.
Peanut Sauce:.
Add all Peanut Sauce ingredients to heavy duty sauce pan and bring to the boil. Stir 15 minutes on medium heat until reduced to 1 ½ cups. Set aside to cool while you prepare the salad.
Salad:.
Add enough water to medium-sized saucepan to cover chicken and bring to the boil. Add chicken and cook fro 15 minutes. Remove and set aside to cool. Once cool, shred.
Compose chicken shreds, egg, lettuce, cucumber, carrot, tomato and shredded onion on plate.
Drizzle over the peanut sauce and serve.