Junebug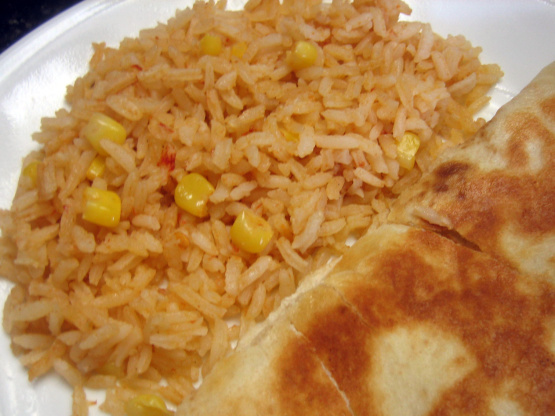 This is a version of rice that you find at a Tex-Mex restaurant. It is way easier than it looks and after you have made it once or twice - you can do it by heart. My kids love it and I love that I can sneak a few veggies in! Can be made vegan with veggie broth.

I have been making this for a while. I changed it up a bit, and I love it.
For the salsa, I use 1/2 cup Medium Pace Picante Sauce. I omit the carrots, use 1/2 cup of frozen corn, about 1/3 cup black beans (its gives the rice GREAT color! otherwise I think it looks quite boring) I add about a tablespoon or so of lime juice. I also add about 1 - 2 teaspoons of minced garlic.
About it not being done after 20 min... I bring it up to a boil once I add the broth, salsa, corn and beans. Then I turn it down to a simmer. It is usually done after 15 min, sometimes 20 (depending on the stove I'm using)

I either use it as a side dish for Garlic Lime Fajitas, or Pace 2 Step Chicken, its great!
In a heavy pot, cook garlic in oil over high heat until browned, stirring often.
Discard garlic cloves.
Add rice to infused oil and reduce heat to medium high.
Stirring constantly, brown rice.
Add broth, salsa, carrots and corn and reduce heat to low.
Cover and cook for 20 minutes.
Fluff rice before serving.