teresas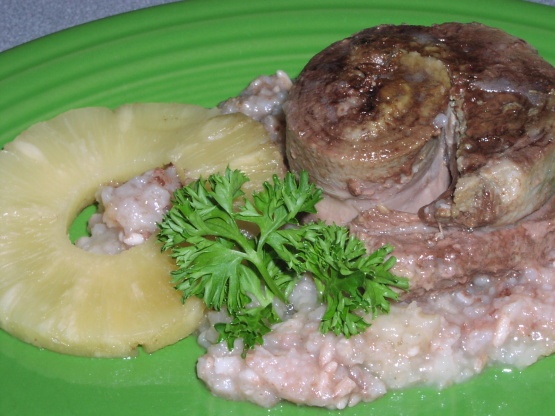 The marinade in these is incredible.Marinade time is included in cooking time.

We just loved the steak. Great marinade. The rice really didn't have any flavor, maybe if you used the marinade as part of the liquid it would be better. The rice was both mushy and still hard. I cooked the recipe for 10 hrs. Personally I would just cook rice on the side and serve it with teriyaki or soy sauce on top. But like I said we loved the steak. Thanks for posting. :)
Roll flank steak, tie and cut into 7 or 8 individual steaks.
In a large bowl enough for marinade to cover individual steaks, combine 1/2 cup pineapple juice, worcestershire, sugar, soy sauce, honey, and ginger.
Marinade steaks for 1 hour in juice-soy sauce mixture.
Pour chicken broth into slow cooker sprayed with vegetable cooking spray.
Add rice and 3/4 cup water.
Place steaks over rice and broth.
Cover and cook on low for 8-10 hours.