Tastes Like Chick-Fil-A Chicken Salad Sandwich
Tina P.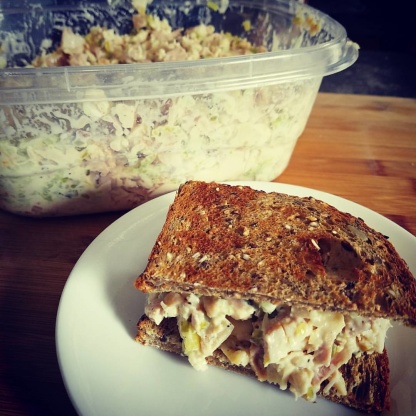 I love Chick-Fil-A!!! I found this recipe clone online after many hours of searching countless boards and forums... I think this recipe is pretty close in taste to their famous salad... I have made some modifications to fit our tastes... hope you will enjoy this as much as we do. This really helps my craving because it is so easy to prepare and much cheaper!!! It is also very tasty and pretty served in a lettuce cup with some crackers.

Great job!!! I think this chicken salad is delicious! It tastes very similar to chick-fil-a's and much cheaper, However, I noticed one thing missing. Chick-fil-a's salad has cut up pieces of hard-boiled eggs. I don't think it would change the taste much, but it is definitely good with it! That's how I made it last time. I topped the salad with tomato slices and romaine lettuce on my sandwiches. I am making it again for lunch tomorrow. Yummy :)
2

large cooked chicken breasts (about 2 cups)
1⁄3 cup diced celery (about 2 stalks)
1⁄2 teaspoon sugar (optional)
1⁄4 teaspoon salt
1⁄4 teaspoon fresh ground pepper
1⁄3 cup sweet pickle relish
1⁄2-2⁄3 cup mayonnaise (depends on how "wet" you like your salad)
toasted bread (whole wheat or thick texas toast are really good)
Pull apart the chicken into large chunks and either cut it into a small dice or process in a mini food processor.
Place chicken in a large mixing bowl and add all remaining ingredients (except bread).
Mix well.
Toast your bread of choice and place salad in between toasted bread and serve.
I also like to serve it in a lettuce cup with crackers for a little variety.