Tarragon-Marinated Lamb Chops With Pineapple Pecan Salsa
This is a wonderful grilling recipe from Bobby Flay. The salsa is delicious and complements the lamb chops so well. This makes a lot of salsa, which is how I like it. Feel free to halve the salsa recipe if you prefer. Since baby lamb chops are used, the recipe allows for 4 chops per person. I'm sure the salsa would be delicious over grilled pork or chicken, as well. Enjoy! *Prep time includes marinating in the refrigerator*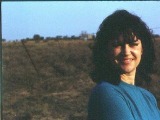 Top Review by Zurie
Made for ZWT7, for the Challenge "Dinner and a Movie". I had to halve the recipe, and the grilling was done in my ridged pan. Would have been wonderful outside on a proper grill, but it's midwinter and too cold! The salsa tastes great. My only regret is -- no tarragon to be found anywhere, so subbed with chopped fresh rosemary. Not at all the same thing, but I felt it had to have a herb! Also, my lamb chops were not babies, but just ordinary size. I used more pecans in my halved recipe, as we love it. Great, tasty recipe!
Salsa: Makes 2 - 2 1/2 cups.
Combine the pineapple, onion, vinegar, olive oil and herbs in a bowl and season with salt and pepper.
Just before serving, fold in the toasted pecans.
May be refrigerated (without the pecans), covered for 1 day.
Serve at room temperature.
Lamb chops:.
Combine olive oil, tarragon and garlic in a large shallow baking dish.
Add the lamb chops and turn to coat very well.
Refrigerate, covered for about 2 - 4 hours.
Preheat your grill to medium high.
Remove the chops from the marinade, shaking off excess. Discard the used marinade.
Season the chops on both sides with salt and pepper.
Grill the lamb chops until medium doneness, about 3-4 minutes per side.
Place on a serving platter and serve the pineapple pecan salsa alongside.