CindiJ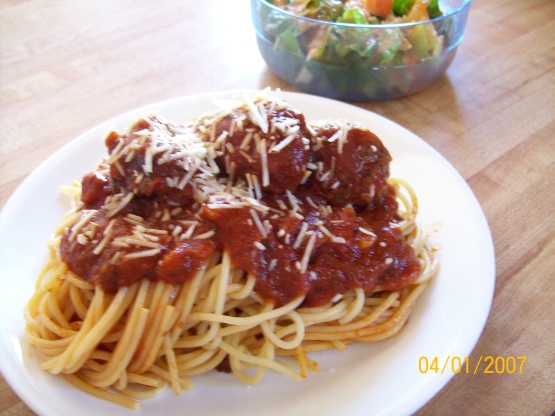 My dad came home from work (he was a mechanic w/TWA) with this recipe...thus it's name. This is how we've enjoyed spaghetti for over 50 years! This is so easy to make, why bother with store bought? Feel free to adjust seasonings to your own tastes.

Good Golly Miss CindiJ!!!! This is some AWESOME sauce! I put this on meatballs Recipe #128840 and stuffed shells. Delicious! We really enjoyed this! Especially the leftovers! :) Thank you Cindi! I will use this recipe often. Made for 2009 Spring PAC
In large stock pot pour oil over to coat bottom.Add onion & garlic; stir and cook 5 minutes until golden. Add tomato paste and diced tomatoes. Add 3 cans of water to each can of paste. Add seasonings; reduce heat and let simmer for approximately 2 hours; stirring often.
Add meatballs, sausages or crumbled meat to sauce for added depth of flavor. I add my meatballs in the final stage and let them simmer for the full 2 hours.