Sweet Cornbread (Bread Machine)
Cazannem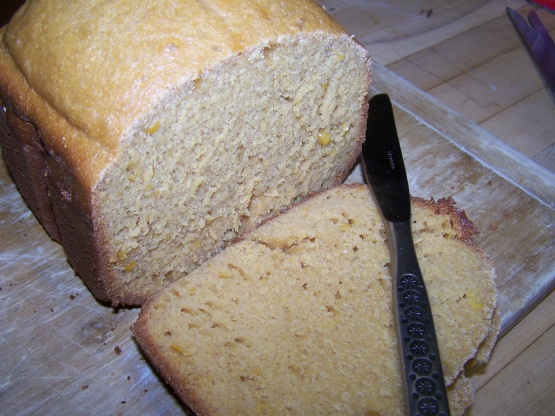 This tastes like the cornbread my gramma and mom make that's why I like it. It's a sweet cornbread but because you use brown sugar (we prefer dark brown.) it's a 'richer' sweet then white sugar...hope that makes sense! You can add corn to it if you wish. This is bread machine compatible to! Just follow your machines directions for the correct order of ingredients.

I made this cornbread yesterday and it definitely beats the pants off my old recipe! This bread is pleasingly sweet without being too sweet. Also, the texture is very nice--it's just right! Although the recipe doesn't specify, use unsalted butter and it will come out perfect. Oh and by "canned" milk, the author of the recipe means evaporated milk, by the way, not condensed (I asked). Anyway, this is my new favorite cornbread recipe! I can't wait til tomorrow morning so I can have another slice, warmed in the microwave, topped with butter. Yumm!!
BREAD MACHINE: Add all ingredients to your bread machine pan in the order directed by your machines manual. I cook on the 'Quick Bread' setting also set for a 'medium' crust. Have been told that is equivalent to 'Cake' setting set for 'light' crust on some machines.
OVEN BAKE: Preheat oven to 350F (177C). Mix all ingredients together in a bowl. Add corn last (if using) and mix in by hand. Pour equally into two loaf pans and bake for 25 minutes or until a toothpick inserted near the center comes out clean.
This makes a 2 pound loaf for bread machine.