Sweet and Savory Cottage Pie
Derf2440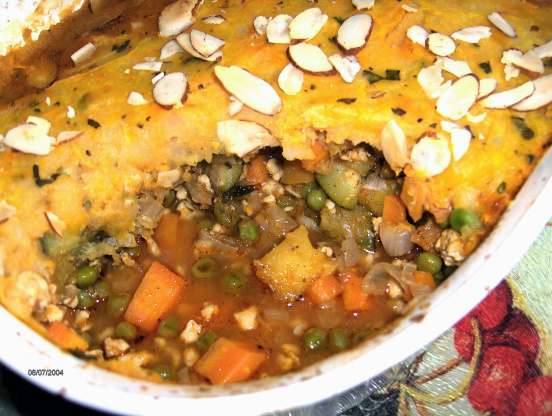 For vegetarians, cooked lentils or cooked mung beans may be substituted for the turkey.

Great comfort food. I loved the combo of the sweet potato/ potato/ buttermilk topping for this casserole. I think next time I will increase the amount of potatoes so the layer will be thicker. I used a large square corningware pan so the potato layer was thinner than I would have prefered (not the recipes fault). As my family are not big fans of marjoram, I used only 1t of it and added 1t of thyme. That worked well for us and resulted in a very enjoyable meal I will make again!!!
Boil all of the potatoes in water until tender.
Drain well and mash the potatoes with the butter, buttermilk and 1/4 teaspoon sage; add salt and pepper, to taste.
Heat the oil in a large pan and saute the turkey, onion, garlic, carrots and zucchini for 5 minutes.
Add the cayenne pepper, 2 teaspoons marjoram, 2 teaspoons sage, tomato paste and stock.
Simmer, uncovered, gently for 10 to 15 minutes.
Add the peas and adjust the seasoning.
Put the turkey/vegetable mixture into the bottom of a 2 quart casserole and frost the top with the mashed potatoes.
Sprinkle with the sunflower seed kernels and bake in a pre-heated oven at 350°F for 30 to 40 minutes.