Ww 0 Point Weight Watchers Cabbage Soup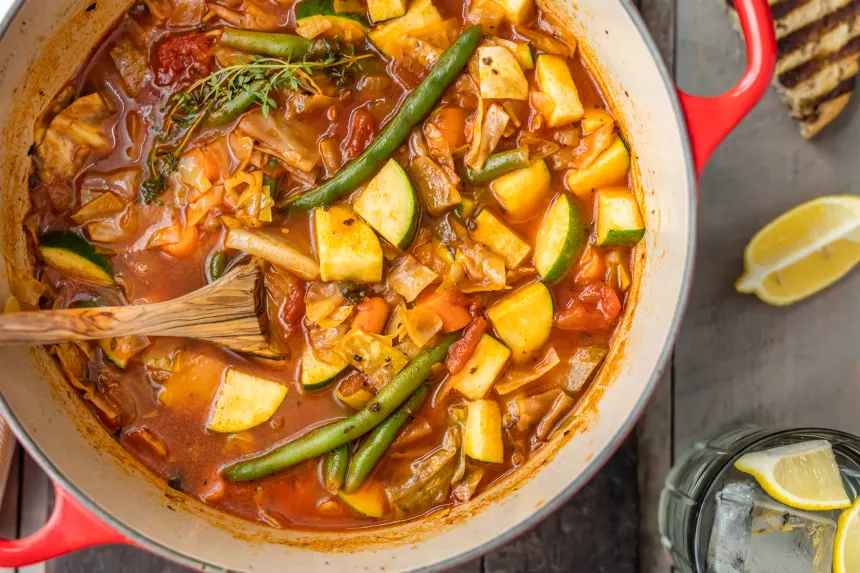 photo by thecookierookie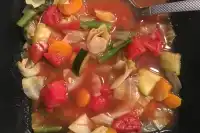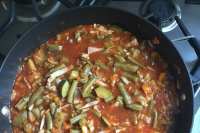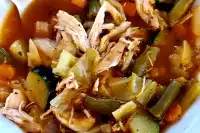 Ready In:

32mins

Ingredients:

11

Serves:

6-8
directions
Spray pot with non stick cooking spray saute onions carrots and garlic for 5 minutes.
Add broth, Tomato paste, cabbage, green beans, basil, oregano and Salt & Pepper to taste.
Simmer for a about 5-10 minutes until all vegetables are tender then add the zucchini and simmer for another 5 or so minutes.
I have tried different variations. Leaving out green beans. Adding chopped green onions in addition to the yellow onion.
All very good. You can customize it a bit.
Questions & Replies

I am looking for the cabbage soup recipe from the mid 70's. There was no tomatoe paste. You could enhance this recipe like this newer one. All I can remember is cabbage onion carrots canned tomatoes of your choice. Not sure bouillon was used. Green peppers. Then for a bonus sometimes we topped it off with Parmesan cheese. Anyone out there old enough to remember this one? Pam

 
Reviews
Very good recipe. I added some red pepper flakes and celery also. Another thing I changed was to saute the carrots and onions in a tablespoon of olive oil. Certain vitamins are fat soluble which means they need some fat for the body to absorb the nutrients. I never use fat free dressings on salad either but use low fat or just a little olive oil and some balsamic vinegar. When dieting, it is important to get all of the nutrients from foods. Thanks for the recipe.

 

What a GREAT soup!! I decided to "go big or go home", and make a HUUUGE pot so i could eat it at home when i got hungry, and more importantly, to be able to take some to work all week...so i used 2 32oz. cartons of beef broth. I basically doubled everything...used 1/2 a head of cabbage, 4 carrots, 1 zucchini, green onions, 1/2 a large onion, 1 can green beans, 2 stalks of celery, garlic, and fresh parsley...i basically just started throwing whatever i could find into the pot...BEYOND YUMMY! i doubled up on the oregano and basil, also added a little thyme. That is truly the beauty of this recipe...you can play with it and make it your own. It really is VERY filling too...after i let it all simmer for about an hour, i had about a cup and a half...FULL! this is going to be the NEW staple of my diet!! Swimsuit here i come!!! thank you for a GREAT recipe dageret!! :-)

 

This is very good! I've made cabbage soup for diets with chicken stock, but the beef stock added a whole new dimension. Loved the suggestions posted by others....adding beans, etc, but I made this recipe to fill me up and not add calories or carbs. I chose not to use the zucchini, and subbed spinach. Perfection! I'll try adding some mushrooms next time, because I think they would be great in this.

 
Tweaks
I have done this soup several times and it always comes out great. I think the original recipe is fine for one person, but I usually have to double it as my 2 sons and husband like it too! This last time I made it I quintupled it, as I wanted to have leftovers! I always add yellow summer squash, as it seems to go well with the zucchini. I have done it both with green beans and without - both are good. This time I added a whole bag of spinach, as it was going to go bad if I did not use it. I also put in a bay leaf and let the soup simmer awhile to give it some extra flavor. I usually saute' the onion and garlic with a little margarine or butter (about 1 to 11/2 tsp.) or sometimes olive oil (about the same amount). I know it adds to the calories, but it improves the flavor so I don't mind the few that it adds. I found I had to actually use quite a bit of salt so it was not too bland. (My kids don't really like spicy, so I steered away from peppers and such.) No matter how I have tweaked this soup, the base recipe is great and it has always come out fabulous! I know even with substitutions it might go from a zero point to a one point soup, but it is still healthy and filling; something I can feel good about eating and serving to my family! Thanks again for this recipe!