Super Easy Turkey Pastrami Appetizer
SharonChen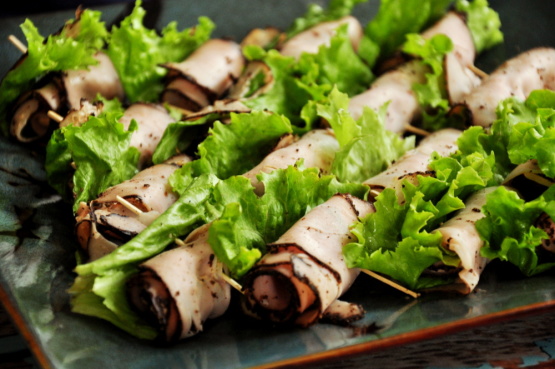 If you haven't tried turkey pastrami, you are missing out! I guarantee you will love this appetizer, super easy to make too! It is filled with a flavorful cream cheese... sooooo delicious and just the right size to pop into your mouth and enjoy a very gourmet appetizer, try it and see!!!! Adapted from Fine Dining.
Very good appetizer that's also so easy to make. The only change that I made was adding a few dashes of chili garlic hot sauce instead of horseradish sauce into the cream cheese mixture. They were delicious! Will make them again.
Mix the cream cheese, horseradish, garlic, salt and pepper together until well blended.
Lay the pastrami slices on a flat surface and spread a small amount of the cheese mixture on each pastrami slice. Cut the pastrami slices into approximately 1" by 3" strips or similar depending on the size you purchase from your delicatessen so that when rolled they will be bite size pieces.
Cut a small piece of green leaf curly lettuce to fit one side of the small end of each pastrami piece; place it on the cream cheese mixture so that when rolled a small portion of the curly leaf lettuce is extended over the pastrami.
Roll up the pastrami strip from the opposite end of the lettuce and secure with a toothpick. You should have a roll of pastrami with the leaf lettuce extended. Place on a serving plate and sprinkle with freshly cracked pepper and serve.