Stuffed Peppers With Thai Curry Rice and Mushrooms
loof751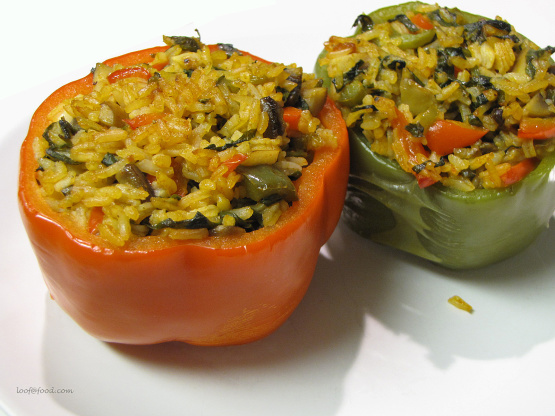 This recipe comes from Jere and Emilee Gettle, who own an heirloom seed business. I prefer to use red, orange or yellow peppers instead of green. Omit the seeds from the jalapeno if you prefer. Featured in Food and Wine, 8/11

We liked these peppers, especially the Thai basil in the rice and garnish, which I used from my garden. I used red bell peppers from the farmer's market. Like another reviewer, I thought the taste of the coconut could have been more pronounced. While the recipe has a lot of great, flavorful ingredients, the end result was a little bland. I ended up melting some cheese on top of mine.
Bring a pot of water to a boil.
Slice the tops off the peppers, and dice into 1/4 in pieces. Seed and core the peppers, and boil them until just tender, about 4 minutes.
Using tongs or a large skimmer, carefully transfer the peppers to paper towels and drain, upside down. Reserve 1 1/2 cups of the cooking water.
In a saucepan, heat 1 tbl grapeseed oil or melt 1 tbl of the butter.
Add the shallots and garlic, season with salt, and cook over medium heat until softened.
Add the rice and cook, stirring, until toasted, about 4 minutes.
Stir in the coconut milk, ginger, curry paste and reserved cooking water, bring to a simmer; cover and cook over low heat until liquid is absorbed, about 25 minutes.
Meanwhile, preheat the oven to 350 deg.
In a large skillet, heat the remaining oil or butter. Add the diced bell pepper tops and jalapeno, and cook over medium heat until tender, about 5 minutes.
Add the mushrooms, cover and cook, stirring, until tender, about 5 minutes. Uncover and cook, stirring, until the mushrooms are browned, about 4 minutes.
Add the spinach and cook until wilted, about 1 minute.
In a large bowl, combine the rice and the vegetables, add the chopped basil and lemon juice, and mix well.
Stuff the peppers and place in a shallow glass or ceramic baking dish.
Cover with foil and bake until the rice is heated through, about 45 minutes.
Garnish with additional whole Thai basil leaves, if desired.