Hlokity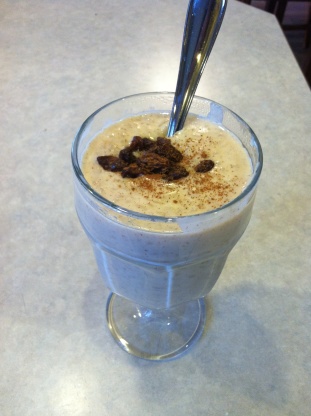 This rice pudding is not only incredibly easy to make, but delicious comfort food. It's all in one pot, and requires no use of the oven! If you like raisins with yours, add 1/4 cup with the vanilla.

Top Review by MommaB
I have made two double batches during Christams break. My daughter ate the first double batch in two days. She usually eats kozy shack rice pudding and I wanted to make something homemade for her. Only changes to the recipe was half and half for the whole milk, used white basmati rice and added some fresh nutmeg with the cinnamon. Next time I'm adding raisins. Yum!
In a medium heavy-bottomed saucepan combine the milk, rice, and salt. Place saucepan over high heat and bring to a boil.
Reduce the heat to medium or medium-low and simmer until the rice is tender (about 25 minutes). To prevent the rice from sticking to the bottom of the pan, stir the mixture frequently with a rubber spatula or wooden spoon.
When the rice is tender remove from heat and add the sugar and ground cinnamon. Return to heat and cook until the pudding thickens, about 5 to 10 minutes. Remove from heat and add the vanilla extract. Spoon the pudding into your seeving bowls.
If you like your pudding hot, eat it now.
If you like your pudding cool, cover it with plastic wrap and store it in the refrigerator for at least 1-2 hours. Remember that the longer you keep it in the fridge, the drier it will become.