Stove Top Chicken in Mustard Sauce
riffraff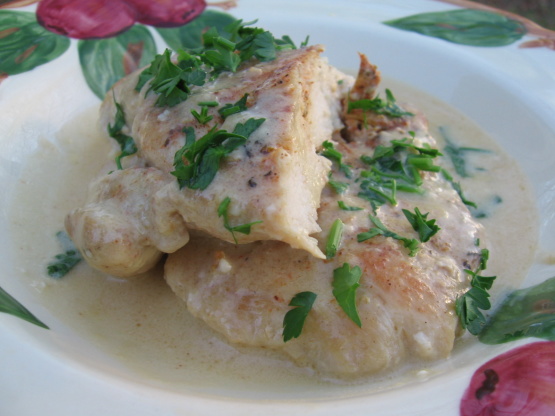 I got this recipe from a blog called Kalyn's Kitchen. I made it tonight and it is plate licking good. We felt the sauce was just perfect, not too much of anything. The sauce is a little thin but delicious. Hope you like it.

This was wonderful! We both licked the plates when we were done. I added a bit of cayenne and did have to thicken the sauce a bit with cornstarch. Put it over pasta and had a bit of baked broccoli on the side - heaven! I've already passed this recipe on to all the folks at work. Definitely a keeper.
Cut slits across each chicken breast but not all the way through.
This is so the sauce penetrates the breast.
Season chicken with poultry seasoning on both sides.
Heat olive oil in large frying pan big enough to hold the chicken in a single layer.
Brown chicken well.
Combine and whisk all the sauce ingredients together.
When chicken is good and brown, lower heat and pour sauce over.
Simmer 20 minutes, being sure to keep heat at a very low simmer.
Serve with sauce and a bit of parsley over each breast.