Stir-fry Vegetables in Black Bean Sauce
BarbryT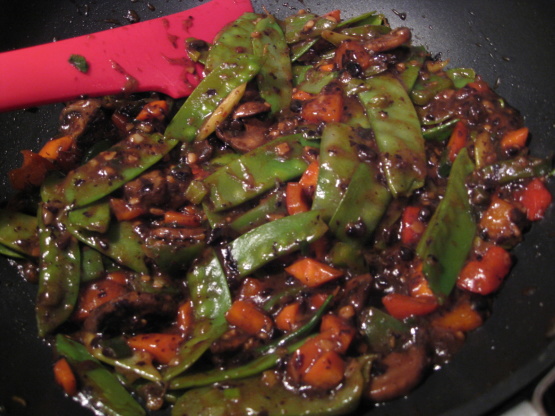 So good, you could add meat or chicken if you like. Serve with steamed rice. I love the flavor of the black bean sauce!!

This was a fantastic stri-fry. I've been looking for a good recipe for black bean sauce, and even though this was the most simple recpie I've tried, it was also the best! For the veggies, I used 1 lb Broccoli and one red pepper. I also added 1 lb of extra-firm tofu, drained and cut into chunks. Finally, I used about 1.5x the amount of stock, black beans, and mirin; this was to make sure that the tofu had enough sauce to soak up. Thanks for a fantastic recipe!
Heat oil in wok and add the vegtables.
Stir and cook 3 minutes.
Add the remaining ingredients and continue stirring for 2-3 minutes longer or until slightly thickened.