Spicy Pumpkin Bread with Dates, Nuts & Raisins
MA HIKER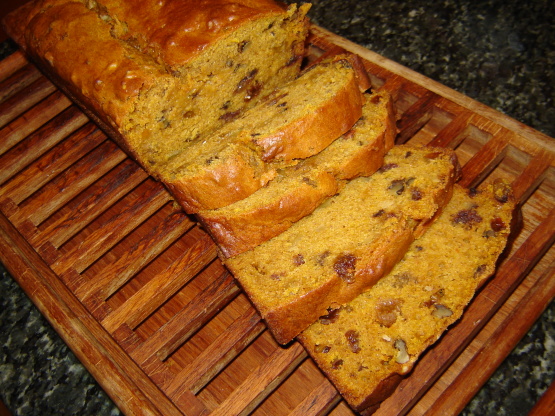 This is another holiday treat, good with coffee, tea or hot cider. It can be frozen with excellent results. If you are tempted to slice it straight from the freezer, please be sure to defrost it before you eat it.

This is wonderful! Fragrant and moist with just the right amount of fruit and nuts. I feel like I struck it rich, because I chose this recipe to use up small amounts of pumpkin and dates I had in the kitchen. I cut the recipe to 2/3 and made one medium loaf. Thank you so much for the recipe, Olga. I'll be baking it again.
Beat together first 6 ingredients until blended.
combine and add the remaining ingredients and stir until dry ingredients are just moistened.
Do not overmix.
Divide batter between 3 greased mini-loaf foil pans, 6x3x2-inch, place pans on a cookie sheet, and bake in a 350 F.
oven for 35 to 40 minutes, or until a cake tester, inserted in center, comes out clean.
Allow to cool in pan for 15 min.
and then remove from pans and continue cooling on a rack.
Serve with sweet whipped butter, Yields 3 mini-loaves.
Easiest& Best!
Coffee Cakes and Quick Breads.