Rita1652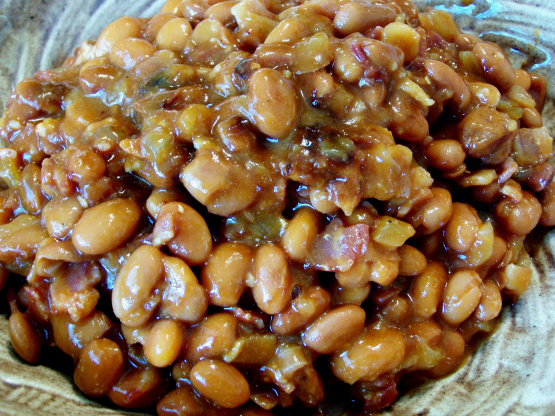 Yum! A classic New England dish made zingy with Tabasco. This can be cooked in a crockpot on low for about 8 hours and finished in the oven, uncovered, at 350 for about 1 hour. (The crockery liner of most crockpots can go into the oven.) Or bake in a covered casserole or dutch oven at 250 for approx 4 hours, remove cover and cook until thick, about 1 hour.
Soak beans overnight in 6C water, or boil 2 minutes to soften and let soak 1 hour while prepping other ingredients. Drain beans.
Mix all in crockpot/casserole, adding enough water to cover, plus about 4 inches extra. Check pot halfway through and add more water if dry. If you won't be home, just start out with more water; you can cook it off during the final hour. When removing cover for the last hour, taste and adjust seasonings.