Spicy Jumbo Shrimps With Old Cape Flavours
Zurie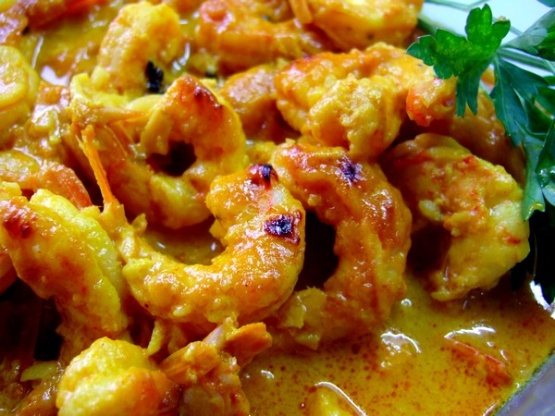 A simple shrimp (prawn) recipe with a leaning towards the tandoori style. Use the largest shrimp you can get, and sea-fresh shrimps are always better tasting than farmed shrimp. But if beggars can't be choosers, the spice in this recipe will make any shrimp or prawn taste great! (Edited on 21 Oct 2010)

This is one of the tastiest shrimp recipes I have ever tried! When I asked DH how to rate it, he immediately said "five stars" which is a rare comment, mostly he says, well, four to five, not quite five... So, this is a BIG winner! I used Greek sheep yoghurt and made the shrimps in the oven. 20 minutes were perfect.<br/>Thanks for sharing this delicious recipe!<br/>Made for the Cook-A-Thon in memory of Gideon.
In a large bowl mix the ingredients from the yoghurt, down to the salt. Whisk well. It's best to do this well ahead, and leave this sauce, covered, at room temperature -- the flavours meld and improve a lot.
Place the cleaned shrimps (preferable in one layer) in a large oven dish or tin, and coat the shrimps with the mixture. Keep some of the sauce for later, if there is enough. Shake the dish, so the thickish sauce penetrates to the bottom of the dish.
Marinate the shrimps in the fridge for 1 hour.
To grill over hot coals, skewer the shrimps close together on skewers (soaked in water if using wooden skewers). Grill quickly and carefully only until they curl up and turn pink, using any leftover or extra sauce to brush them with.
Or bake in a 350 deg F/180 deg C oven, brushing once with the rest of the marinade.
Bake only until they turn pink and curl up -- better watch this, as I forgot to time this bit! If they're cold out of the fridge they will take longer -- it's better to take the dish out of the fridge 30 minutes before cooking time. (Tonight, cold from the fridge, they took only about 20 mins to cook).
If done in the oven, serve with the juices, over rice. If grilled on skewers, serve with salads and bread.
Be warned that shrimps shrink a lot in cooking, and as a main dish 2 lbs/1 kg will really only serve 4 adults!
You could stretch it by serving it as a starter, on baby mixed greens moistened with vinaigrette. Serve with crusty bread.
Prep time does not include cleaning the shrimps or the marinating time.