Spicy Garlic and Lemon Crusted Shrimp
Bergy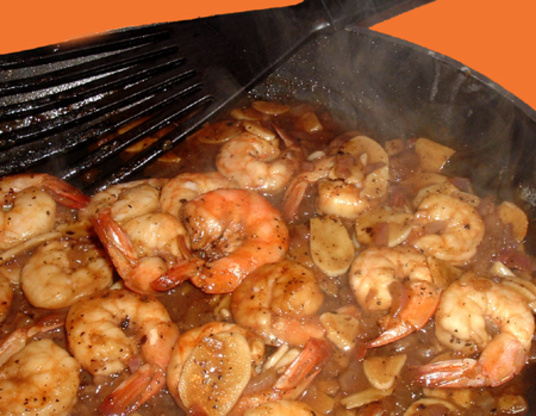 Found this shrimp recipe in an ad for Wild American Shrimp. Prep time does not include 1 hour to marinate. Meant to be an appetizer for 4 but could be main dish for 2.

I used a Stout beer and it worked out great! Great flavors with all the spices and shrimp. Loved it!
Combine shrimp, garlic, shallots, black pepper, salt, lmeon zest and juice, thyme sprigs, Worcestershire, hot sauce, and beer in a large bowl. Cover and chill for at least 1 hour and up to 6 hours.
Heat a 12-inch skillet over moderately high heat until hot, then add 2 tablespoons of the butter and the shrimp and marinade all at once, stirring constantly. Cook for 4 minutes or until the shrimp is pink and the bits of garlic are golden brown.
Remove shrimp from the pan and stir in the remaining 2 tablespoons of butter. (The sauce should have a thick consistency.).
Spoon the sauce over the shrimp. Serve over pasta or rice or with warm crusty bread.