CandyTX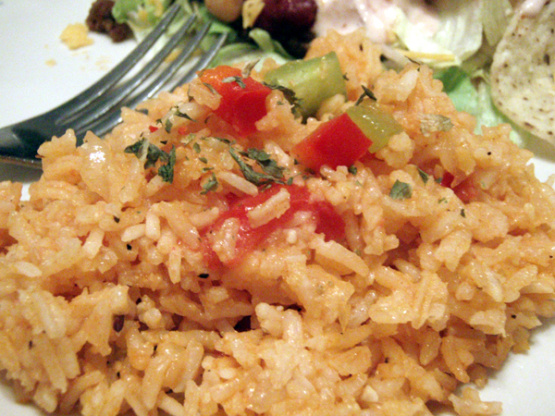 i received this recipe in my email, and it cooked up perfectly. i thought i'd share it with you.

This is a good base, we think, but if we make it again we will make a few adjustments such as adding minced garlic, cooking the veggies with it to start with (they were a little under-done). We also had to add more water to get the rice completely done, but it still wasn't completely tender. We have saved it to try again!
In a sauce pan that has a tight fitting cover, melt the butter and sauté the onions until soft.
Add the rice and stir to coat the rice with butter, then add the tomato juice, hot water, bouillon cubes, pepper sauce, chili powder, and black pepper.
Stir to dissolve the bouillon cubes and bring to a boil.
Once the liquid reaches a boil, reduce heat to its lowest setting, cover and go away for 25 minutes.
Do not stir, do not look under the lid.
Once your timer goes off, remove the pan from the heat, lift the lid off quickly and throw in the tomatoes and chopped peppers and put the lid back on quickly.
Do not stir, do not taste.
Allow the rice to steam in the pan for 20 more minutes.
serve.