tanish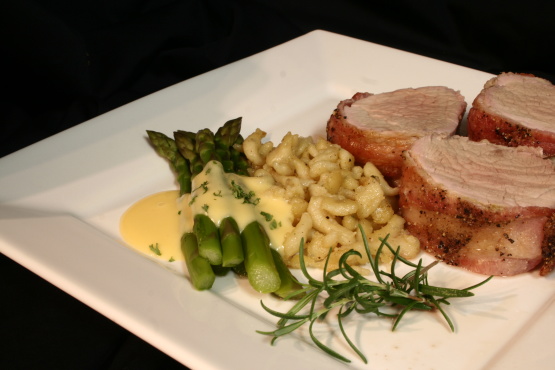 Spaetzle is an irregular-shaped German noodle made from a dough of flour, eggs, milk and seasonings. It is formed by rubbing the dough through a colander or a special sieve into boiling water. Rinsed with cold water then fried in butter until lightly browned.
Mix all the dry ingredients together.
Whisk together the eggs and milk until well blended.
Add the moist to the dry and whisk together until smooth and lump free.
Cover with saran and let rest 5 minutes. The dough will be quite thick.
Set the spaetzle maker over a pot of lightly salted boiling water.
Place the batter in the spaetzle maker, slide back and forth to force the batter through the holes.
After the spaetzle float to the top, let simmer a minute or two, then remove with a strainer.
Place the noodles into a colander and rinse with cold water.
Add just a touch of canola oil to the noodles to prevent them from sticking together.
Cover with saran and refrigerate until service time.
Saute portions needed in butter until hot and lightly browned. Serve immediately.
Unused portion can be frozen for future use.
Check out our website ourfavoriteglutenfreerecipes.info for more "delicious recipes missing the gluten but not the flavor".