Peter J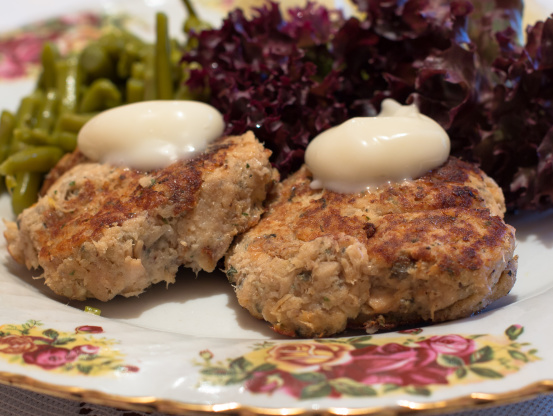 A taste of salmon with a southern Kick

My husband's mother has always made salmon patties. He loved hers above and beyond, but once I made these he said "AWESOME"!! THE BEST I EVER HAD.....I like salmon but never liked salmon patties....I tried this recipe and it was a killer ...now I am hooked!!!
14

ounces pink salmon (skinless and boneless)
1⁄2 cup Italian seasoned breadcrumbs

1

teaspoon seasoning (Everglades seasoning)

1

teaspoon parsley
1⁄2 tablespoon lemon juice

1

egg
1⁄4 cup mayonnaise

1

tablespoon oil (your prefered brand and taste)
Mix Salmon, bread crumbs, everglades, parsley, lemon juice, mayo, oil and egg in bowl.
Form into patties of desired size.
lightly oil or grease pan and fry on medium to desire on each side (4 to 7 min) or you can grill if you prefer.
Sprinkle with black pepper if desired and serve with dipping sauce of your choice.