Sour Cream Coffee Cake Muffins
Calee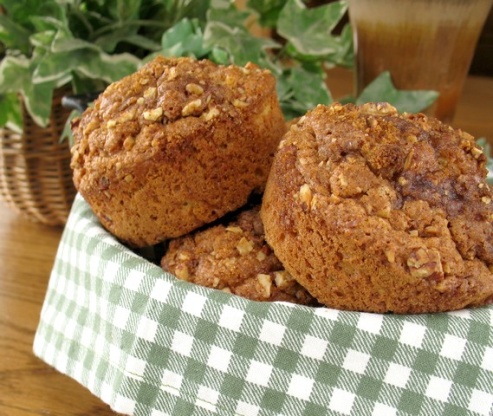 I actually got this recipe from a Bed & Breakfast that I once stayed at. I was so impressed with these muffins, I had to ask for the recipe. Much to my surprise, the pastry chef gave it to me and asked nothing in return. I lost this recipe and found it recently...OMG It's a keeper!

Top Review by sroop
Made these for a brunch on Sunday and they were very easy to make and DELICIOUS! They do make more than 12 muffins since mine ended up huge! I would go to 14-16. Mine were so big they stuck together but still tasty and everyone loved them! highly recommend!
Mix brown sugar walnuts and cinnamon together and set aside.
Muffin: Mix butter, sugar and eggs.
Add sour cream and vanilla.
Add dry ingredients.
Marble the brown sugar mixture through the batter using a table knife.
Reserve a few tablespoons for sprinkling on top.
Fill 12 greased muffin cups.
Sprinkle remaining brown sugar mix on top of each.
Bake at 375 degrees for 22 minutes.
Remove from pan and cool.