PaulaG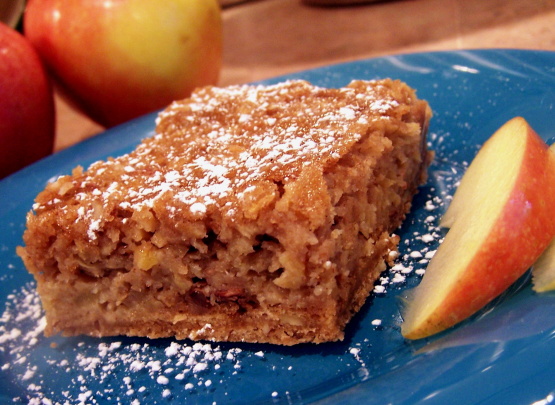 This dessert is very simple to put together, and so delicious served warm with ice cream or whipped cream.

The taste was good but the texture odd. When it was first baked the crust was so hard, it was hard to cut through. The part on top of the crust was fairly moist so after it had sat for about 1 1/2 days it was finely easy to cut through the crust due to the moisture from the top part softening it and then it was easier to eat. My guys didn't like it when it was fresh since they said the crust was too hard but once it softened they said it was fine. I know I didn't bake it too long since I baked only 25 minutes in my oven. Not sure what happened. I wondered about the flour sugar ration since 1 to 1 is high so I am guessing that for some reason the botton crust carmelized a bit during baking. So when fresh we didn't enjoy. After it had ripened it was much better. So I only give it 3 stars since it seemed to behave oddly.
Set oven to 350 degrees.
Prepare an ungreased 13 x 9-inch baking pan.
In a large bowl, combine flour, brown sugar and butter; beat at low speed until crumbly.
Stir in nuts.
Lightly press 2-3/4 cups of the crumb mixture in bottom of an ungreased baking dish.
To the remaining crumb mixture, add cinnamon, baking soda, salt, sour cream, vanilla and egg; mix well with a wooden spoon.
Stir in apples.
Spoon evenly over the crumb base in the pan.
Bake for 30-40 minutes, or until a toothpick inserted in the center comes out clean.
Cool slightly; cut into squares.
Serve with ice cream or whipped cream -- YUMMY!