Xanthia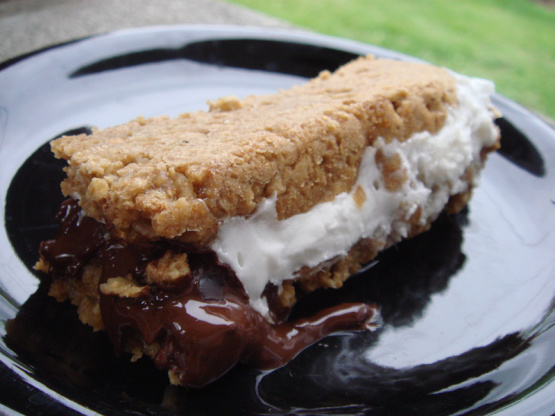 Does anyone hate S'Mores? Here's a lunch-bag, picnic, hiking version of an all-time favorite. I found this in "The King Arthur Flour Baker's Companion"

I make these regularly for my kids who adore them. Whenever they share with a friend I get an urgent phone call from their parents asking for the recipe. Great for school lunches! A few adaptions : honey rather than corn syrup, and substitute 1/3 of the graham crumbs with ground flax....and always, always real butter!
They set up beautifully, make perfect, chewy bars every time....I line my pan with tin foil, then flip the bars out after cooling for -10 minutes, and slice while still soft. Delicious!
In a medium-sized saucepan set over medium heat, melt and stir together the butter, sugar and syrup, cooking until the sugar has dissolved; stir in the oats, flour, salt and graham cracker crumbs.
Press slightly more than half of the mixture into a lightly greased 9x9-inch pan, let cool completely.
Preheat oven to 350°.
Sprinkle the chocolate chips evenly over the top, then top with the marshmallows; top with remaining crust mixture.
Bake the bars for 15-20 minutes; remove from the oven and let them rest for 20 minutes, then cut into squares while still slightly warm.