Smoky Chipotle and Cheddar Mac
Jigawatt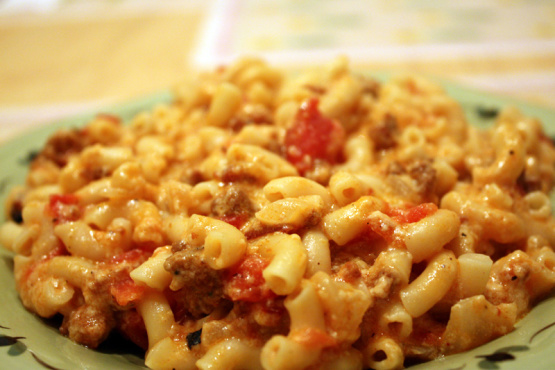 DH and I had this mac and cheese for dinner last night. We thought it was good and had nice flavor. It was also pretty easy to make. I might have liked it a little spicier--maybe adding some crushed red pepper flakes next time. Also, like the other reviewer, mine didnt thicken up and was kind of soupy. I havent had my leftovers yet, so perhaps it will have better consistency today.
Place a pot of water on to boil for macaroni. When it boils, salt water and cook pasta until a little under done, just shy of al dente.
While pasta cooks, place a small nonstick skillet over medium-high heat and add a drizzle of olive oil and chorizo.
Brown the chorizo then add the canned tomatoes to the pan and heat them through. Remove from heat and reserve.
While chorizo begins to cook, heat a medium sauce pot over medium-low heat.
Add 1 tablespoon olive oil, then add onions and chipotles and cook 3-5 minutes to sweat it out and turn the juices sweet. Raise heat up a bit, add the flour and whisk together until mixture bubbles up. Cook 1 minute more.
Whisk in milk and stock and raise heat up a little more to bring the sauce to a quick boil. Once it bubbles, drop heat back to a rolling simmer sauce to thicken, 3-5 minutes.
Drain macaroni or pasta. Add cooked pasta back to the large pot.
Add cheese to milk sauce and stir to melt, a minute or so.
Stir in chorizo and tomatoes and season sauce with salt and pepper.
Pour sauce over cooked pasta in large pot and toss to combine. Transfer to a large serving platter, garnish with chives and serve.