AZPARZYCH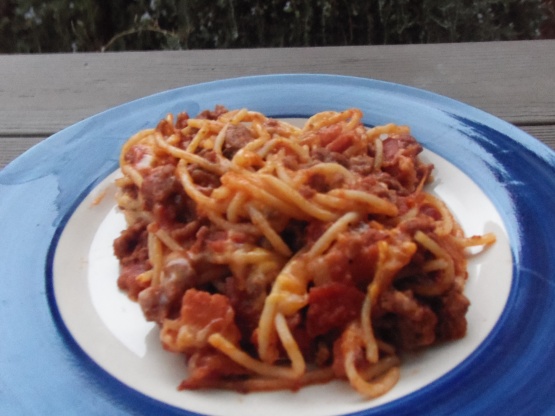 Love this hearty pasta dish! It makes a lot and leftovers are yummy too. This is another of those "old newspaper clipping" recipes I've been posting.
Lovely smokey, comfort food! I had my doubts - i thought the bacon would make the whole thing too rich, that there wasn't enough sauce for the amount of noodles, yada, yada, yada, Silly me, it all balanced out just right. DH loved that the dish tasted smokey but not obvious that it was from bacon. This isn't an over saucy dish but that keeps it from being overwhelming . I too omitted the mushrooms and green pepper and added onion. I used garlic granules and sliced fresh garlic. I started browning the meat, then tossed in the bacon and onion and cooked them well together. I used a mix of sharp cheddar and mozzarella. We have a keeper! Made for Best of 2010 Tag.
Chop the green pepper. Dice the bacon. Shred the provolone and cheddar cheese and combine. Drain the mushrooms.
Brown the ground beef in a large skillet; drain. Add chopped green pepper and diced bacon and simmer until bacon is cooked and peppers are tender.
Add tomato sauce, water, mushrooms, salt, and garlic powder. Simmer 1 hour over low heat.
While sauce is cooking, cook the spaghetti according to package directions and drain well.
Add the spaghetti to the sauce and mix well. Spray a 13x9 inch baking pan with nonstick cooking spray.
Put half of the sauce mixture in the bakiing pan and cover with half of the cheese. Add remaining sauce mixture and top with remaining cheese.
Cover and bake at 375 degrees for 25 minutes.