Smoked Salmon Spread With Pears and Horseradish
BecR2400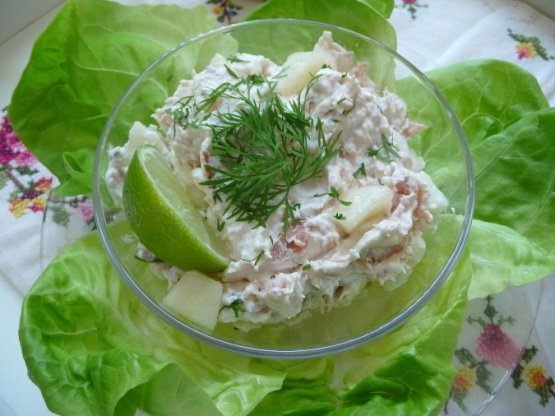 This is an Austrian version of a smoked salmon spread. Horseradish is very popular in Austria and is used in many dips and sauces. The salmon used in this dish is not Lox, this is slowly smoked Alaskan Sockey and is flaked rather than cut. Enjoy it with some crusty Ciabatta bread and a glass of fruity white wine.

Made for the German tag event using wild caught Alaskan smoked salmon and some really strong horseradish so used only three or four teaspoons. Loved the combination of flavors, the pear was a tasty surprise! So glad I made your recipe, Elfie. Thank you! P.S. Would be lovely with a Riesling or Gewurztraminer so will try that another time.
Flake the salmon into small pieces.
peel, core and dice the pear(s) and sprinkle them with lemon or lime juice, set aside.
In a Foodprocessor mix the cream cheese, yoghurt and horseradish, remove to a serving bowl.
Fold in the diced pears and flaked salmon, season with salt and pepper and sprinkle with chopped herbs.
Garnish with lettuce, lemon wedges and herbs, chill for a few minutes.