Smoked Salmon and Cream Cheese Soup
Prep 15 mins
Cook 45 mins

This lightly-creamed soup is truly special. It works as comfort food for a casual soup & salad dinner or a starter course for an elegant dinner party. On our recent trip to the US, my SIL gave me the recipe. She said her mother had copied it from a cookbook & did not recall the source. I wish I knew who to acknowledge & thank for this classy taste sensation. I hope you try this & enjoy it as we did. (PLS READ NOTES shown as steps 7, 8 & 9 of prep)... *Edited To Add* This recipe was revised to include the addition of garlic & Old Bay Seasoning.
Directions
Melt butter in med-size stock pot over med heat. Add onion + garlic & saute till onions are soft, 10-15 minutes.
Stir in dill, Old Bay Seasoning, tomatoes & smoked salmon. Cook 3 minutes. Then add flour & cook 1 min more.
Gradually stir in water & heat to a soft boil. Reduce heat & simmer uncovered over med-low heat for 20 minutes.
Stir in spinach & simmer 5 more minutes.
Stir in cream cheese (1 oz at a time) over low heat, allowing ea bit to melt into the soup.
When all the cream cheese has been added & the soup is smooth, stir in the vodka & lemon juice. Taste for seasonings & serve immediately.
NOTES: I entered this recipe as given to me & made a half recipe w/2 chgs in my trial version.
I left out the vodka (none in the house!), subbed dry white wine & frankly doubt I will ever use the vodka. I pd homage to a DH pers pref & subbed diced broccoli florets for the spinach. I pd homage to 1 of my own by adding 4 oz baby shrimp.
Pers pref are often at the heart of any success a recipe enjoys. I found this soup in need of salt, but DH did not. He found the lemon juice a bit excessive, but I did not. Bottom line is tasting for your pers pref is advised.
Reviews
Most Helpful
Wow - we just loved this soup. I made this exactly as posted, except I used a 15 oz. can of diced fire-roasted tomatoes in place of the fresh tomatoes. I did use the vodka and I stirred the chives into the soup. I thought the amount of lemon juice was just perfect, but I did add some freshly ground sea salt for flavor. Made by a Tasty Tester for the ZWT9 Scandinavian Seafood Challenge.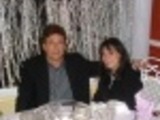 This is fantastic...I wasn't sure how it would come out but we really liked it. We had a bit of trouble getting the cream cheese to incorporate into the soup, next time I might get the whipped cream cheese instead of the bricks. I also used low fat cream cheese to take away some fat. Rather than water I used all chicken broth for the liquid. Made for ZWT #9!

Delicious! I changed the recipe slightly to add a bit more richness by making the broth from 3 cups of skim milk and 3 cups of water rather than the 6 cups of water the recipe asked for. Soup turned out remarkably light still, but with a good creamy texture. The Old Bay I had on hand had blackening seasonings in it, but still tasted very good. I also used 1/2 cup of dill rather than 3/4. Big hit with everyone in the house. Will definitely make again!