Junebug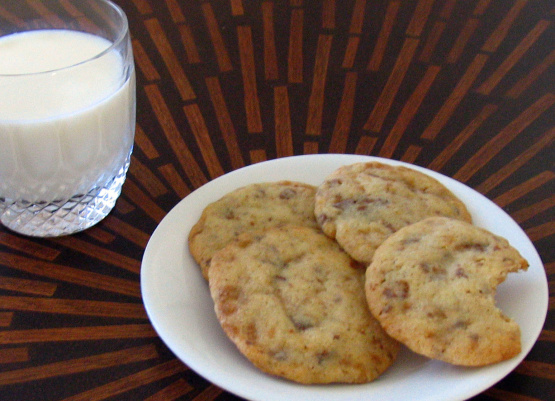 MMMmmmmm....Skor bars (Or Heath bars if you can't find Skor)! These are easy and delicious with lots of Skor pieces that melt in your mouth.

Not that bad. Terribly sweet. I was unsure about the sugar measurements. Was it 1 cup in the batter...and then reserve 1 cup to roll in? or is it really 2 cups in the batter? If that's the case, then I would definitely definitely lessen the sugar amount. It's a huge recipe and would do good for a cookie exchange.
Preheat oven to 350°F.
Sift flour, salt, baking powder and baking soda together,set aside.
In a large bowl cream together butter and sugar with an electric mixer.
Add vanilla and eggs and beat until smooth.
Add flour mixture and beat until just combined.
Mix in Skor pieces by hand.
Shape into 1 1/2 inch balls and roll in sugar.
Place on cookie sheet and flatten with the bottom of a glass.
Bake about 10-12 minutes until set but not brown.
Cool on cookie sheet for 2 minutes and transfer to rack.