Simply the Best Bread Pudding
Jon A.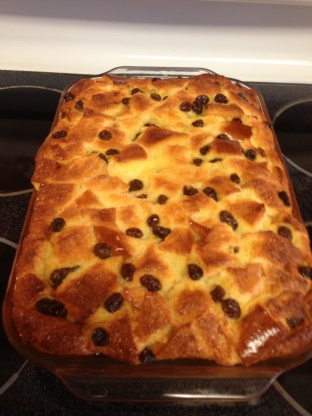 This is by far the easiest and most delicious bread pudding I have ever encountered. People swoon at the first bite and beg me for the recipe. The quality of your ingredients is crucial to the success of this recipe. Be sure to use a good, bakery-quality Challah bread, and do not make low-fat substitutions for the milk and cream. If you cannot find Challah, substitute it with another slightly-sweet egg bread, like Hawaiian bread. Use only homemade or bakery bread.

WOW!!!! For those of you unsure if this is the recipe for you, put your mind to rest. This is an absolutely EXCELLENT recipe! The pudding turns out perfectly moist, a beautiful golden color and you wont believe how much it raises when you bake it! The only modifications I made to this recipe is that I used homemade brioche, which was perfect for this recipe, and I soaked my raisins in irish cream to plump. But I can tell you, after having tasted, this would have been fantastic without the added indulgence! My mom has got to be the most difficult woman to buy or cook for. For her birthday this year, I decided to make her a bread pudding, her favorite. She, my father, and the rest of the family couldn't stop raving about it. They have already put in a request for this for my Dad's birthday. Thanks so much for the wonderful recipe!
1

lb loaf day-old challah, cubed (Jewish egg bread)

8

large eggs
3 1⁄2 cups whole milk
1 1⁄2 cups whipping cream

2

cups sugar (white, brown, or a combination)

1

tablespoon vanilla extract
1⁄8 teaspoon nutmeg (preferably fresh ground)

1

cup raisins or 1 cup dried cherries
Butter a 13 x 9 x 2 dish.
In a separate bowl, combine all ingredients except bread and raisins/cherries.
Mix until eggs are well incorporated.
Add bread cubes and raisins/cherries and mix until combined.
Pour all into dish.
Refrigerate a minimum of 2 hours, up to overnight (longer won't hurt).
Bake at 350F for 1 hour, 15 minutes.
Serve warm or at room temperature with sweetened real whipped cream.