Simple Vegetarian Stir-Fry
drtbrd2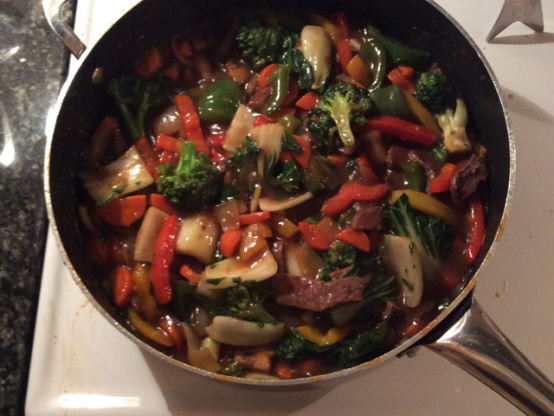 This is an incredible stir-fry, just the right amount of savory and sweet. Adjust the soy sauce and brown sugar to taste if you prefer the sauce to lean more towards one way than the other. Serve over brown rice.

Top Review by NC-QT
Loved it! The only change I made was adding more ginger and brown sugar because I used regular soy sauce and the saltiness was overpowering. I used water chestnuts, carrots, mushrooms and snow peas for my vegetables and served it over brown rice. The family raved over the meal from start to finish. Thanks for making our first "Meatless Monday" great.
Combine the cornstarch, water and garlic powder. Add the mixed veggies and onion and toss to coat.
Heat the oil over medium heat and stir-fry the vegetables until tender. Add the broccoli and stir-fry 3-5 minutes, until tender.
Mix the remaining ingredients together in a small bowl and add to the pan. Cook, stirring, another two minutes before serving.