BarbryT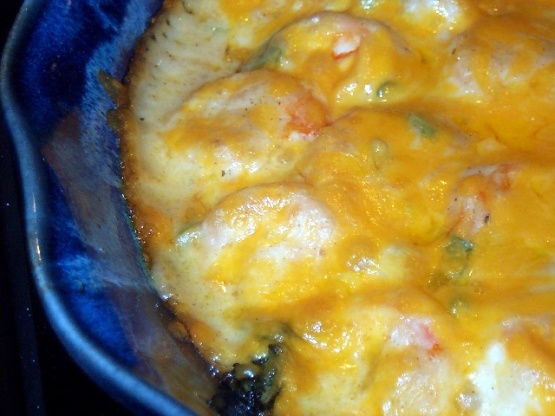 Two of my favorites...shrimp & spinach, topped off with a cream sauce. One of the first recipes I ever made for a boyfriend. The boy is long gone, but I still love the recipe.

Excellent! I made this with a couple variations 1. No need to pre-cook the shrimp. 25 minutes in boiling cheese sauce is more than enough to cook them. 2. I substituted 1/4 cup dry vermouth for the white wine and emmenthaler (Swiss) cheese for the cheddar. 3. I substituted a yellow onion and some garlic as follows: Saute the onion in the butter until wilted. Add garlic and saute for 30 seconds more. Add the flower and stir for a minute. This makes a roux with onions in it. Warm the milk and vermouth and add to the roux/onion/garlic mixture. Simmer and stir until thickened. 4. Butter the pan first, then add (cooked) spinach topped with (raw) shrimp. 5. Add the onion/veloute sauce that you made above and grate the cheese (1/2 lb or more) over all 6. Bake as directed for 25 minutes or so. If cheese not browned enough, take a kitchen blow torch to it. Move the torch quickly so you don't blacken anything. As good as it gets!
Preheat oven to 350 degrees.
Thaw and drain spinach.
Spread spinach in a pie pan and top with shrimp.
In a saucepan, melt butter and stir in flour.
Then gradually add milk, wine, scallions.
Cook on low, stirring
Add salt, pepper and enough paprika for a rosy color.
Pour sauce over shrimp and sprinkle with cheese.
Bake uncovered for 30 minutes or until bubbly.