chia2160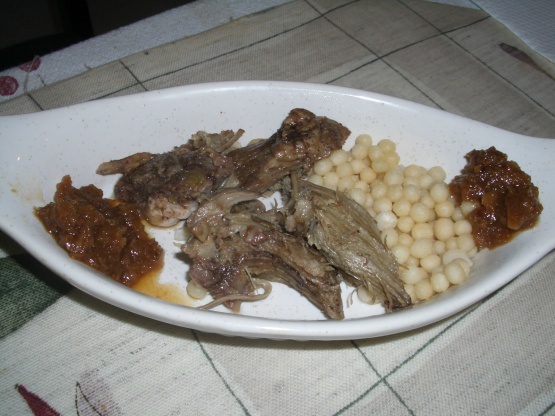 the best thing about "philly cooks" a fund raiser for aids which featured 50 of philly's finest resteraunts, was this dish! after i went back for the 3rd time i persuaded the adorable chef of Valanni's to share his recipe- and he did. when i made this at home it was every bit as good as the original.

Wow! Good stuff! I was a bit dubious about the fig jam but since I did have some figs that needed using up I went ahead and made it. It was definitely worth doing, although even without the jam this is a great recipe. I had a frozen lamb shoulder roast that I discovered was boneless when I thawed it out, which helped this to be amazingly easy to make. This is a great dish to serve to company because it holds really well. I was a little short of time and did not get the broth reduced all that much - no great problem, just serve it with something to sop it up, because you won't want to miss a drop.
4

lbs lamb shoulder, bone in,rib bones removed

3

tablespoons cumin

3

tablespoons coriander
salt and pepper

2

large onions, chopped

3

carrots, chopped

1

bunch scallion, chopped
1 1⁄2-2 cups chicken stock
have your butcher cut the lamb for you leaving the shoulder bone in, but removing the rib bones and extra fat.
preheat oven to 350.
trim fat off the roast.
brown in a frying pan on all sides, remove.
score the meat on all sides and rub with mixed cumin, coriander, salt, pepper.
put into a tagine or a roasting pan, roast uncovered for 30 minutes.
remove and lower heat to 250.
add onions, carrots and scallions to lamb, to cover pour chicken stock in to fill half way cover and cook aprox 4 hours.
remove from oven.
the lamb will be very tender and the 2 large bones will come right out.
you can shred the lamb with 2 forks.
put the tagine or roaster on the stovetop and reduce the cooking liquid to 1/2, about 20 minutes.
add lamb back, serve.
this tastes great topped with a dab of fig jam.