vrvrvr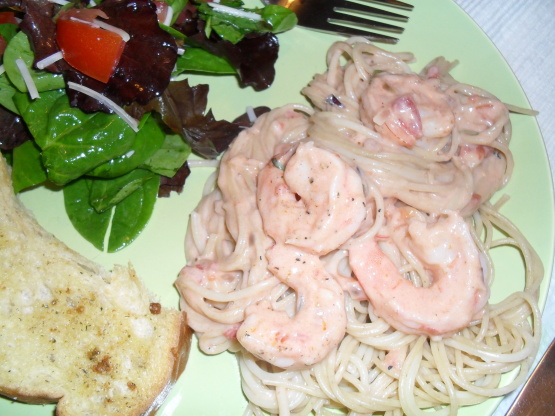 This recipe is easy to prepare because it uses some store bought items such as alfredo sauce, but impressive because you still do a lot of it yourself. It is prettey fast for prepare, less than an hour. My family loves it! I never have any left overs.
Start the pasta boiling. Peel the shrimp and devein them if you would like. Set them aside.
Dice onion and saute in butter with the garlic. When onions are crisp-tender (3-5 min.), add tomatoes and shrimp. If a whole can of tomatoes is more than you think your family will want, then only add half. Cook, stirring often until shrimp is done. If you overcook the shrimp it will be tough. Remove pan from heat. If there is a lot of juice from the tomatoes, pour some out. A little juice is good. Add alfredo sauce and stir. Return to low heat to warm sauce.
Drain pasta noodle. Pour shrimp and alfredo sauce over noodles and stir.
Like most of my recipes, this one is very forgiving and easy to manipulate. Sometimes I leave the tomatoes out, sometimes I add some fresh basil. I hope you enjoy.