alligirl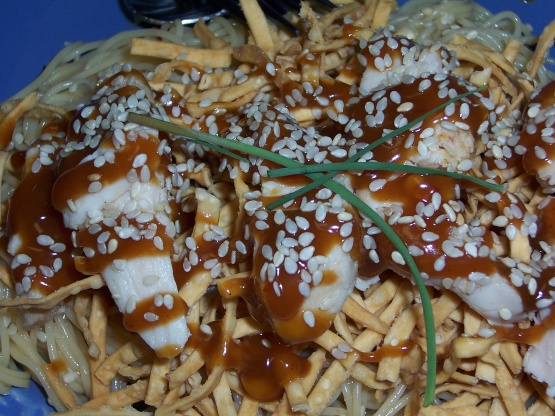 cold poached chicken with hot, spicy sesame peanut sauce Adapted this from a recipe I found years ago...

Fabulous taste! I really enjoyed the depth and intensity of the flavors mingling together. I made this easy recipe even easier by using prepared chicken strips from the grocery store. Makes it a cinch! I did heat the peanut butter in the microwave (15 seconds @ 50% power), to make the mixing of ingredients easier. I served this on top of recipe#205907 and crunchy chow mein noodles, with the chicken strips on top and the sauce drizzled over all. Thanks so much for sharing, Vicarjane in Western MA!
First take 1 or 1 1/2 lb boneless chicken parts (thighs and breasts are great). Put in a large pot, cover with cold water, bring to a boil, then boil about two of three minutes, then remove from heat and cool. Keep cold until use.
Place sesame seeds in a small shallow pan and toast over low heat until they begin to turn golden. Set aside.
In a small bowl, cream together the peanut butter with about 1 tbsp sesame oil until smooth. Add the remaining ingredients one at a time, stirring as you go. Taste for heat and adjust according to taste.
Slice chicken and place on serving dish.
Spoon sauce over chicken.
scatter sesame seeds and scallions on top.