ImPat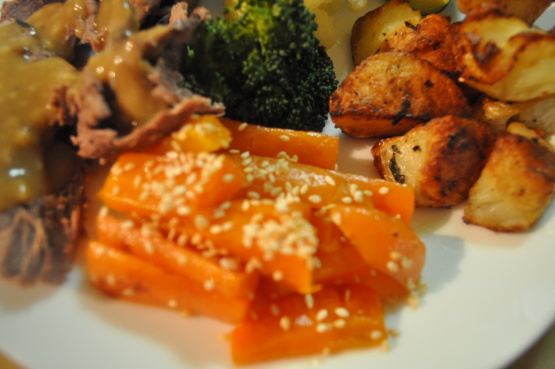 This simple way to cook carrots is one of the most popular vegetable dishes we make at work. The smell and taste is great with the addition of the sesame oil.

This recipe takes an ordinary veggie and turns it inot a fabulous side dish without a lot a work. YUMMY! Everyone loved it!
1⁄2 kg fresh, peeled carrot

2

tablespoons oil

2

teaspoons sesame oil

2

tablespoons sesame seeds, tossed in a dry pan over a medium heat until golden
salt and pepper
Cut the carrots in 3 pieces, then each piece in half.
I would cut the chunky end into 4 if it was very big.
Place in a baking tray and roll in the 2 tablespoons of oil.
Cover and bake for 40 minutes in a moderate oven.
Remove the cover and sprinkle over the sesame oil and season with salt and pepper to taste.
Return uncovered to the oven for 10 minutes.
Serve sprinkled with the toasted sesame seeds.