Rita1652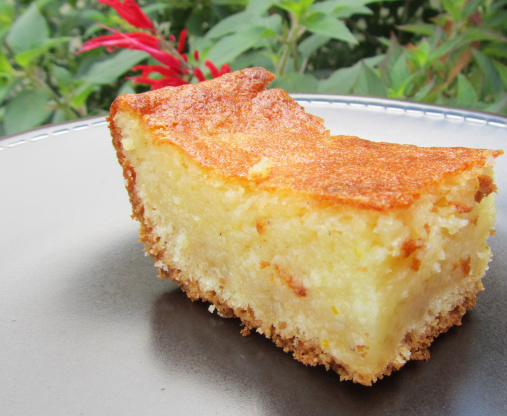 A Polish cheesecake that I grew up on using modern technology, mixer and food processor. Farmers cheese is the choice of cheese but Ricotta is just as good. This is rich using eggs, cream and cheese. I flavored with Liqueurs using any lemon or Orange flavored ones you enjoy.
This is delicious, and was approved by my Polish friend, who was impressed at the cheese filling being fluffy. I didn't have Limincello/Grand Marnier so used the juice of a lemon instead (the zest was already going in). The baking powder in the filling wasn't listed for inclusion so I left it out. I used two full tubs of ricotta cheese, which was slightly more than the 1lb 'farmers cheese'. I cooked it in a toasting tin! It's really sweet and very light to eat. The nutmeg is the finishing touch I think, subtle but compliments the lemon and cheese really well. I'll definitely be making this again!
Preheat oven to 350 degrees.
Dough:.
Pulse flour, baking powder, sugar, and salt in a food processor and butter and pulse till crumbly. Add egg and sour cream mix till it comes to a ball.
With heavy floured hands press into a 13x9x2 pan bring up a touch on the sides of the pan. It will be sticky.
Filling:.
Beat egg whites in a mixer till stiff, set aside.
Beat egg yolks, sugar and vanilla till light and creamy.
In a food processor place butter, potatoes, cheese, Grand Marnier or limoncello, nutmeg, salt and zest of lemon or orange pulse till all combined.
Add to yolk mixture folding in to incorporate.
Fold in beaten egg whites.
Pour on to crust.
Bake for 45-50 minutes.
Turn oven off and let cool with door ajar.
Cool well before serving.