lazyme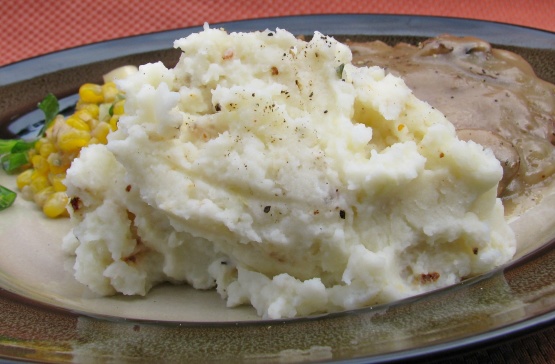 I like these mashed potatoes because they are simply seasoned and creamy and go well with lots of meals. These can be made ahead and kept warm, covered, in the baking pan in the oven. Recipe is from Taste of Home.

These were rich and delicious, even though I made a few changes: I reduced the cream cheese by half. :) I cooked my potatoes in my pressure cooker instead of following the directions listed. And I used garlic salt instead of onion salt b/c that's what I have on hand. Thanks for sharing this recipe!
Place potatoes in large saucepan and cover with water.
Bring to a boil.
Reduce heat; cover and cook for 15-20 minutes or until tender; drain.
In large mixing bowl, mash the potatoes.
Add the remaining ingredients; mash until fluffy.