This makes a big pot of thick seafood chowder, you almost need a fork to eat it! You can find crab and shrimp combo in the refrigerator section near the seafood - you could sub 1 can crab meat and 1 can baby shrimp if you can't locate the crab/shrimp combo.
Directions
Heat saucepan over medium high heat. Spray with cooking spray and saute onions until transparent.
Add potato, bay leaf, marjoram, cayenne and chicken broth. Bring to boil, cover, reduce heat and cook until potato is soft, 8-10 minutes.
Add creamed corn, canned corn, milk and freshly ground pepper.
Over medium-high heat, heat until hot, not boiling.
Add red peppers and the package of crab/shrimp, continue stirring until heated through, 2-4 minutes.
Reviews
Most Helpful
Delicious, easy, hearty, and pretty quick! I used canned crab and shrimp (drained both). I plan to keep these ingredients around as a backup or emergency meal when other plans don't work out. The 1/8 tsp. of cayenne and 1/4 tsp black pepper was perfect for me, but hubs added a little more black pepper. Thanks for posting.

This was delightful and very easy. I could not find the crab/shrimp combo, so I had to use a can each of the crab and shrimp. I also sauteed the onion in some canola oil first (rather than use the spray - I guess I should be more calorie-conscious). I did not find this chowder too thin, but I could easily use a spoon! I will be making this again. Made for Please Review My Recipe Tag Game.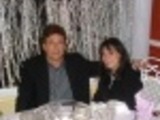 This has a very nice taste, but I found it to be a little too thin for a chowder. I did use a mix of fresh shrimp and fresh crab....maybe that had something to do with the texture. It is a very good tasting soup though! Made for 123 Hit Wonders Tag!