Krsi Sue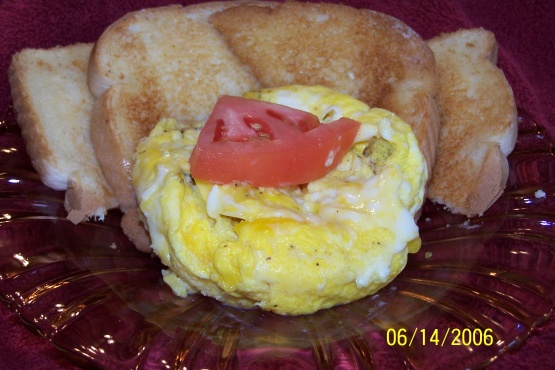 My son asks for this almost every morning for breakfast. I like it because I don't really have to mess up the kitchen & it is quick. Different wattage microwaves may cause a slight change in the times that you cook. Using less eggs will change the time as well. If you forget the cooking spray, clean up is not as easy.

This was such a fun recipe, easy and quick and actually looked really pretty on the plate. I had an extra egg yolk left over from making meringue cookies so added that to it with some fresh grated chedder cheese and it puffed up like a cheese souffle (sp)and did at the pat of butter on the plate. What a great idea when you are in a hurry and don't want to make a mess. Think this could have a lot of additions, maybe bacan or ham - yum and what an easy way to make that egg bagel sandwich in the morning.
Spray a serving bowl with cooking spray.
Crack the eggs into the bowl, and stir up with a fork, making sure the yolks are broken.
Sprinkle with salt and pepper.
Cover the bowl with a paper towel and microwave for 1 minute.
Remove from the microwave and cut the cooked parts of the eggs with a knife and fork.
Return to the microwave, cover, and cook for 1 more minute.
Remove from the microwave, cut the eggs up and top with a pat of butter if you wish.
As an option, put chunked ham or bacon in the eggs while cooking. Great as well with a small spoon of cheez whiz mixed in after it is done cooking.