Scrambled eggs and olives
najwa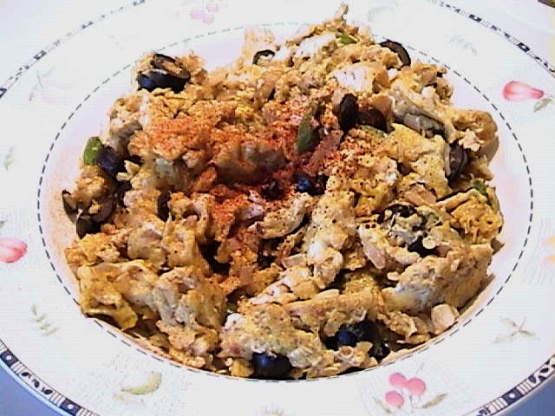 I learned to make this when i was 7. Black olives are the best.

Top Review by Bergy
I nearly ruined the recipe. I had some black cured olives in the fridge so I chopped them up but as soon as I put them on the pan I could smell that it it was wrong so I went back to square one. Definately the salad olives. I did the eggs like I do them for "Easy Omelet for One" and they came out lovely & light the hot pepper (I used a jalepeno) combined with the olives & onions gives a great taste to the eggs Thanks Najwa
4

eggs

1

small onion, chopped

4 -5

tablespoons chopped olives (, i use chopped salad olives)
salt, to taste
pepper, to taste
1⁄4 teaspoon crushed dried hot pepper
Spray a medium saucepan with cooking spray (or use olive oil if you prefer), and cook onion until softened.
Add olives and cook for 1/2 minute.
Beat eggs, salt, pepper and hot pepper.
Add eggs to saucepan and cook until set.
Serve with pita bread.