Ashley Cuoco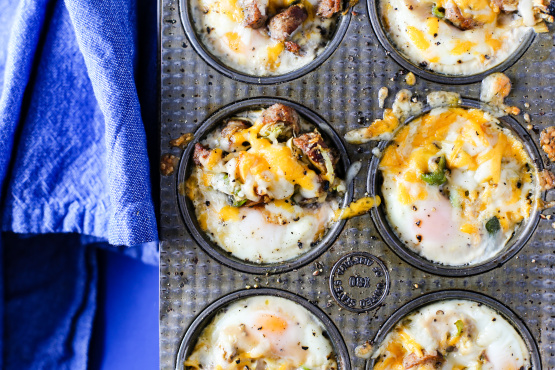 I got this recipe from a magazine. It's very easy to make and is great for any meal. Kids love them.

Top Review by Bobbie
We really enjoyed these little gems! I used chopped ham in place of the sausage -- just a personal preference that my family has. I also sauteed the onion (I used green onion) and bell peppers and then added the ham for a couple minutes as well. I might pump up the garlic powder a little bit the next time I make these. I also went a little heavy on the cheese. I baked these in my silicone muffin pans and they fell right out after baking. I did increase the baking time to about 30 minutes. I wrapped the leftover ones and have them in the freezer -- plus I did reheat one yesterday morning and it turned out great -- just about 20-25 seconds in the microwave. I think you could also add some chopped brocolli or shredded zucchini -- or even some hash browns to these. Thank you, Nicole for posting this recipe.
Brown sausage; drain well.
Preheat oven to 350°.
In a bowl, beat eggs, then add onion, green peppers, salt, pepper and garlic powder.
Stir in sausage and cheese.
Spoon 1/3 cupfuls into greased muffin cups.
Bake at 350° for 20-25 minutes or until a knife inserted comes out clean.