gailanng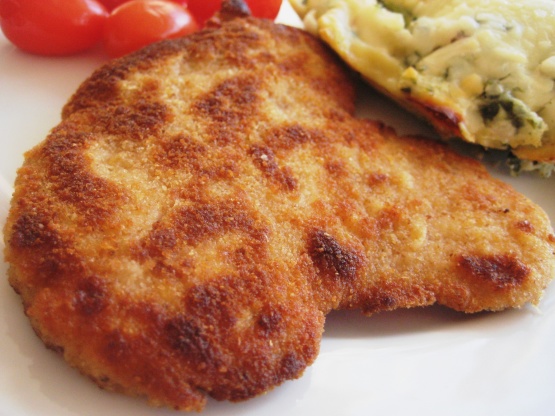 Yum! Given to me by a German neighbor, very simple and delicious.

Hard as it may be, I'd give my last piece of schnitzel to my husband because he's the kind of guy who'd get out of a warm, toasty bed to put away the leftovers I forgot about just so I don't get all cold.
4

butterfly pork chops

1

teaspoon salt
3⁄4 teaspoon pepper
3⁄4 teaspoon paprika
1⁄4 cup flour
1⁄2 cup breadcrumbs
1⁄2 cup Butter Flavor Crisco

2

eggs, beaten
Wash meat and dry on paper towel.
Beat meat until doubled in size with meat beater.
Season with salt, pepper, and paprika.
Dip in flour, then beaten eggs and in the bread crumbs.
Heat butter crisco in large skillet and place schnitzel in pan.
Brown well on both side in pan on medium heat for abut 15 to 20 munutes.