Scalloped Asparagus Casserole
TNlady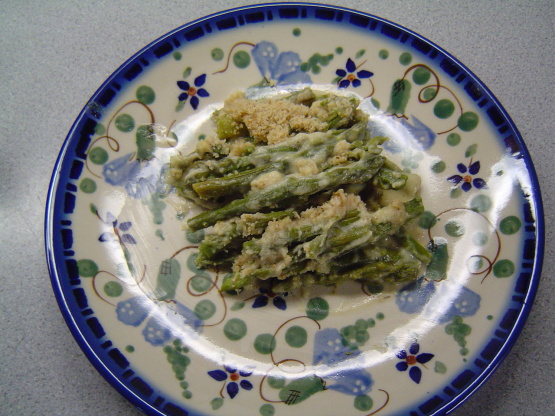 This asparagus casserole is baked with white sauce, made with cheese and a topping of buttered bread crumbs. I found this recipe at southernfoods.com and was impressed that it was so easy to make as well as tasty.
Wash asparagus, remove woody part of stalks and cut into 2 1/2-inch pieces.
Cook asparagus in boiling salted water until just tender.
Drain and place in a shallow baking dish or casserole.
Melt 2 tablespoons butter in saucepan.
Mix 2 tablespoons of the butter with the soft bread crumbs; set aside for topping casserole later.
Blend flour, salt, and pepper into remaining butter in saucepan.
Continue cooking and stirring over low heat.
Gradually add milk, stirring until thickened.
Add Worcestershire sauce, red pepper, and cheese; stir until cheese is melted.
Pour sauce over asparagus in casserole; top with buttered crumbs.
Bake at 350° for 20 minutes or until bubbly.