Savory Sausage and Sauerkraut Skillet
Demandy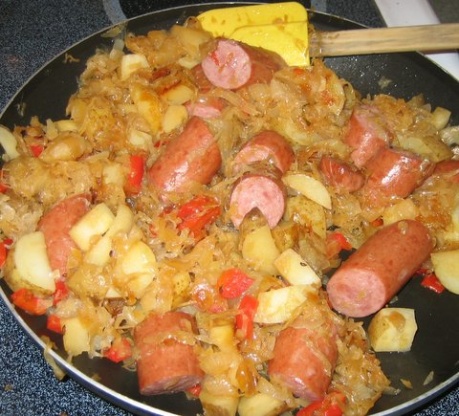 A cold weather favorite. It is so easy and yet filling and flavorful. Good served with pierogi or even baked beans.

I thought this was quick, easy, and tasty! I had to sub molasses for the brown sugar (1 T instead of 2) because I had run out. Also my sauerkraut already had sugar and caraway in it, so I didn't add more. I used turkey smoked sausage, which tasted just as good. I'll definitely be making this again.
Melt butter in skillet.
Add onion and green pepper.
Cook until tender.
Add apple, brown sugar, caraway seeds, potatoes, and sauerkraut.
Mix well.
Place sausage on top of sauerkraut mixture.
Cover.
Cook over medium-low heat for 40 minutes.