Sauteed Spinach, Mushrooms and Pancetta
Nif_H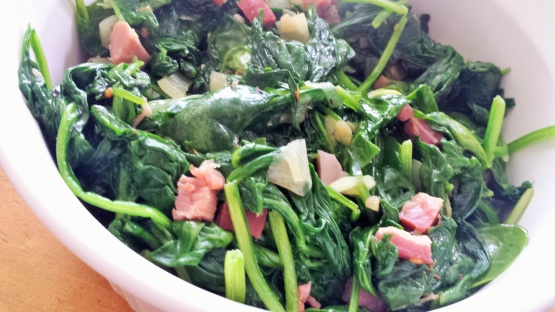 quick and easy, i adapted this from a recipe in fine cooking for braising kale- this was so much quicker and tasted great!.

Top Review by Nif_H
Fantastic! The grocery store was completely out of mushrooms (really!) but this turned out amazingly well anyway. I loved the heat from the red pepper flakes and used more spinach than was called for. My mom really enjoyed it too and she's not a huge spinach fan! Made for the Cook-a-thon in chia's memory, along with her recipe #195950. Thanks chia!!!
heat oil in pan.
add pancetta, onion, red pepper flakes and garlic, saute until tender, 5 minutes.
add mushrooms, saute 5-7 mintes more.
add spinach, saute until soft and add nutmeg and pepper to taste, stir in, remove from heat.
season to taste and serve.