BarbryT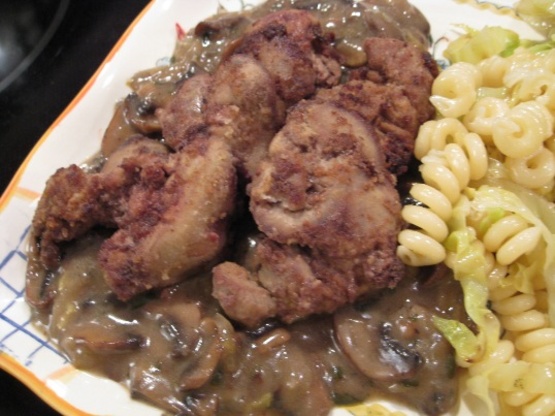 Chicken livers have always been a staple on my diet, from when I was a little girl.I have combined a few recipes with my own and I came up with this one. I hope you enjoy them as much as I do They are comfort food for me!.;)

Top Review by tti01
Absolutely delicious!!! i made this pretty much the same way, except i had to add more butter, plus i added some garlic and cilantro. DH absolutely loved this. on a scale of 1 to 10, he usually gives most of my recipes an 8, but this actually got a 9 out of him. and if you knew how reserved he was, you would realize what a great rating and complement this actually is. kudos to whoever created this!
Season livers with 3 Tablespoons of the flour and salt and pepper, to taste.
Saute chicken livers in 2 Tablespoons butter, 5 minutes or until brown but still pink inside.
Remove livers, and drain on paper towels, reserving drippings in skillet.
Add other tablespoon butter, if necessary.
Saute mushrooms, onions and celery in drippings until golden brown.
Stir in flour(I guessed at the amount - use little by little) salt & pepper with broth.
Add Sherry, parsley and wocesterhsire sauce; bring to a boil.
Add more flour if necessary, but remember to mix it with some liquid first, so that there won't be any lumps.
Reduce heat to a simmer and cook for 5 minutes, stirring often.
Add chicken livers, simmer 3-5 additional minutes.
Serve over fluffy white rice (sprinkled with bacon) or.
Basmatti rice, sprinkled with chopped parsley (sprinkled with bacon) or.
Buttered broad noodles with peas*.
*Broad buttered noodles: boil noodles according to package instructions, drain and coat with butter, salt & pepper and combine with 1/4 cup frozen peas (defrosted).