Sauerkraut Soup Ala Sooz's Family
Parsley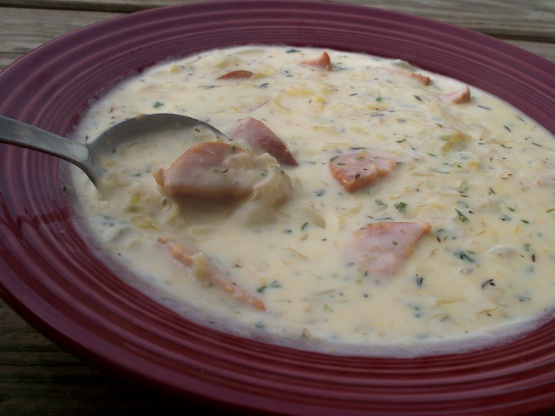 Even the people in my family who claim to "hate" sauerkraut love this soup. It is my adaptation from a recipe I had that I KNEW the family would NOT like. This is so good on a cold winter day served with warm crusty bread and a nice German Beer. This can be low(er) carb too by using a LC thickener.

WOW! So good, so easy. 2 changes to deal with an undersupplied kitchen - beef instead of chicken broth, and shredded cheddar in place of velveeta. WOW!~ Will add this to the winter rotation - we both loved it - and are sending the left overs to my MIL who is German and will also love it!
Melt butter in a large dutch oven.
Chop the sausage coarsely by hand or in a food processor (leave the casing on).
Transfer the sausage to pan with melted butter, and season with onion powder (or add onion).
Saute over medium heat until the sausage is lightly browned, about 10 minutes.
On a small plate combine the flour, thyme, parsley and pepper. Add to the sausage and brown all together until the mixture bubbles up, about 5 minutes.
Add the chicken broth, milk and the half-and-half, and cook stirring until the mixture again bubbles up, about 5 minutes.
Add the sauerkraut and it juice and bring to a boil; the mixture will continue to thicken.
Reduce heat and add Velveeta, stirring until melted.